Dorms by design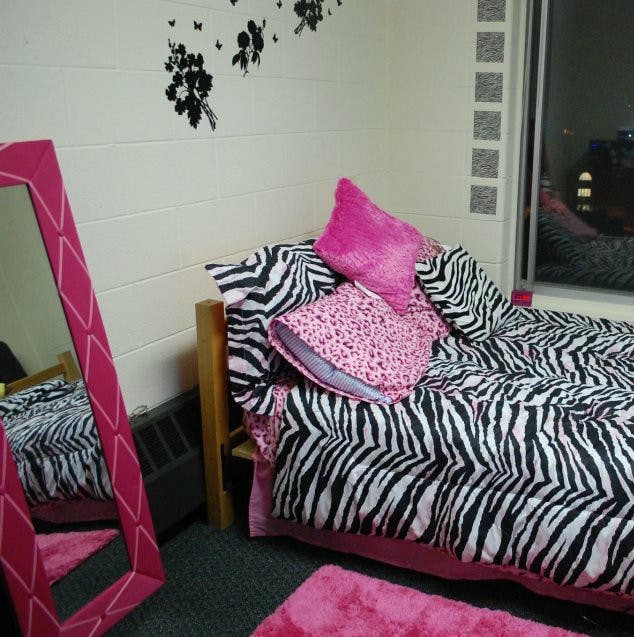 As the new school year starts to roll in, one of the most important issues for students is how to decorate a dorm room. Not only can decorating those boring cinderblock white walls be fun, but it can also seem like a hassle and become expensive. Saving space, staying under budget and giving your dorm an overall style are all important to having an excellently decorated dorm room.
When decorating your dorm, see every space available as a place to decorate. For example, start off with what people see first: your door. Using different materials like paper, colored duct tape and decals makes your door an introduction for visitors as to who you are and what to expect once the door opens.
Walls are another space to start with when decorating your dorm. While posters and pictures are fine, venture out and use other removable wall art such as wall decals and sticker frames. Hanging your items up in your dorm is also an option. While nails and screws cannot be used on the concrete walls, Command adhesive hooks and poster strips are not only excellent alternatives, but also relatively cheap and can be bought at any retail store such as Target or Walmart. Using removable hooks will allow you to hang funky geometric mirrors, artsy tapestries, curtains, bulletin boards, clocks and dry-erase boards.
One of the major accessories in your dorm room will be your bedding. A comfortable bedding set should not only be fun, but also functional. The fact of the matter is that dorm rooms can and will get cold, especially in those bleak winter months. Quilts are great sources of warmth, but also give an opportunity to veer from the more commonly seen comforters and duvets. Extra throw pillows not only help with comfort when lounging on your bed, but also come in many different styles, prints, designs and colors.
If you prefer not to have your guests laze on your bed, select other types of seating. Butterfly chairs and ottomans are relatively inexpensive. Butterfly chairs are functional, as they can be folded up and put in a closet or under your bed. Ottomans make a great night table to hold your alarm clock or phone and also offer storage space inside.
A common lament amongst college students is the lack of space in dorm rooms. Start by looking at every aspect of your dorm as an option for space. Instead of bringing your big jewelry chest, opt for a jewelry box or a hanging jewelry organizer. Sweater, shoe and handbag organizers can be placed in a closet, instead of trying to jam sweaters in your three-drawer dresser or bringing your shoe shelf with you.
You'll probably want to choose a laundry bag over a laundry basket or hamper, since bags are easier to hold onto and you can store more clothes in them. When not in use, bags can be folded and stored elsewhere. Plus, many laundry bags come in different colors and patterns that can match the rest of your dorm as well.
Lastly, decorating your dorm has the same mantra as fashion: accessorize! Accessorizing your dorm room gives it flare that fits your own personal style, but makes your space chic, cool and creative.
You can always accessorize your desk since you will be spending a lot of time there studying, eating and hanging out. Giving yourself a small desk lamp will help for late night study sessions when your roomie is asleep.
Book ends, audio speakers, desk sets and desk frames will help complete your dorm room style. Not only does accessorizing bring your room together, but it also personalizes the space to your own taste and creativity.
Using color can be your gateway to cohesively decorating your dorm. Being aware of the amount of space you have, knowing what you truly need to bring with you and accessorizing your dorm with color and style will ultimately be your décor savior.
When decorating your room, remember three simple ideas: cohesiveness, practicality and color. All of your items should not only fit together, but should be useful; if you don't see yourself using it, then forget it.
Keep in mind when decorating your dorm to be careful of what you put up. Following Eastern Michigan University's guidelines for decorating will not only save you time, but a lot of money—both of which you'll definitely need as a college student.