The team that won: EMU quidditch team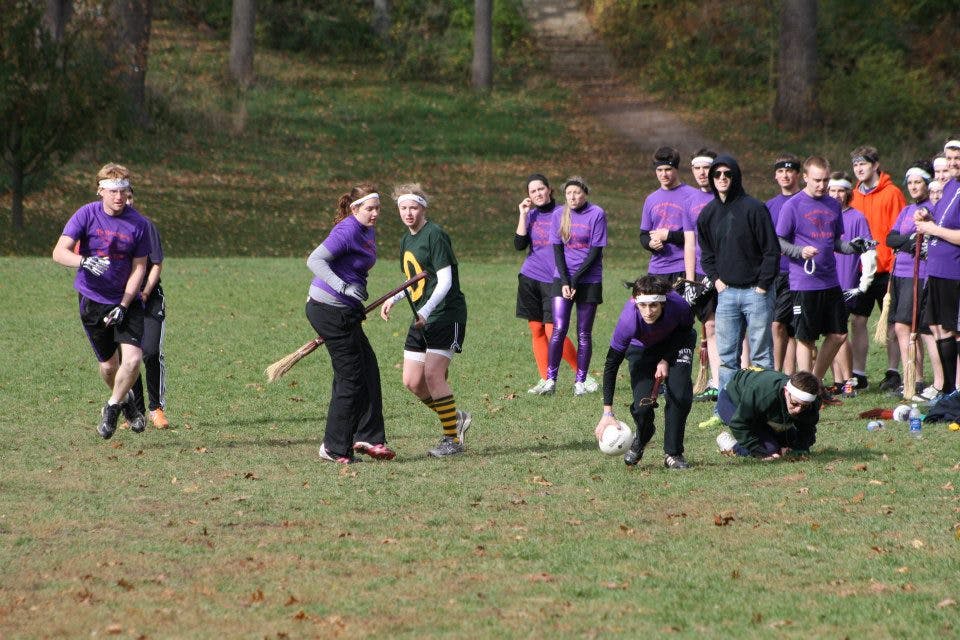 The Eastern Michigan University Flying Squirrels Quidditch team traveled down the road to Ann Arbor for their second tournament of the season Oct. 28. Despite not having an official from the International Quidditch Association, the Squirrels picked up a victory against the Downriver Dragons by 100 points, but lost again to the University of Michigan 70-10.
The Dragons are a young team that just started in the summer. This is their first official season of play, and they are an up-and-coming team in Quidditch.
"It's always a fun spectacle when we get to play local rivals," EMU grad student and team keeper Nathaniel Gibson said about playing the Dragons. "And it was even better to gain another local team to compete with."
The Dragons struggled during the match, but with time the team should progress.
The Squirrels won their first match up against the Dragons, but lost in their second match against fourth-ranked Michigan. The Squirrels were looking to avenge their loss to Michigan from the
previous tournament in Bowling Green, Ohio, but couldn't pick up the win.
"It was basically the same as the last game, and we have really struggled at playing man to man defense on them. They are one of the tougher teams we have played," sophomore chaser Chris Crile said about the loss. "We have confidence and we know we can hang with the top-ranked teams like them. [The] Midwest Regionals is going to be huge for us and we will need to perform."
The Squirrels' goal since the beginning of the season has been to climb up the IQA power rankings and make it into the World Cup. According to the current power rankings, the team is ranked 41st among the official IQA teams, but still have plenty of room to move up.
"I think after this week we should move up into the 30s in the rankings, but we need to start winning against ranked teams," Crile said. "We have beaten teams like Purdue and Ohio State, so we know that we have the talent. I don't know what our pool will look like at regionals, but we need to come through there so we get to the World Cup"
The Midwest Regionals is in two weeks in Ohio, and will have teams from the area playing in pools with the top teams earning a berth into the World Cup in Florida to end the season. The tournament will be round-robin style, and the Flying Squirrels will need to pick up big wins to earn their bid to the World Cup this season.
"We have tons of talented players, and we just need to put it all together and win in our pool so we can get to Florida," Crile said. "I am very confident we can make it to Florida. We have a solid lineup and we just need to put it altogether and play clutch in our big matchups."