Senior Spotlight: Karrington Ward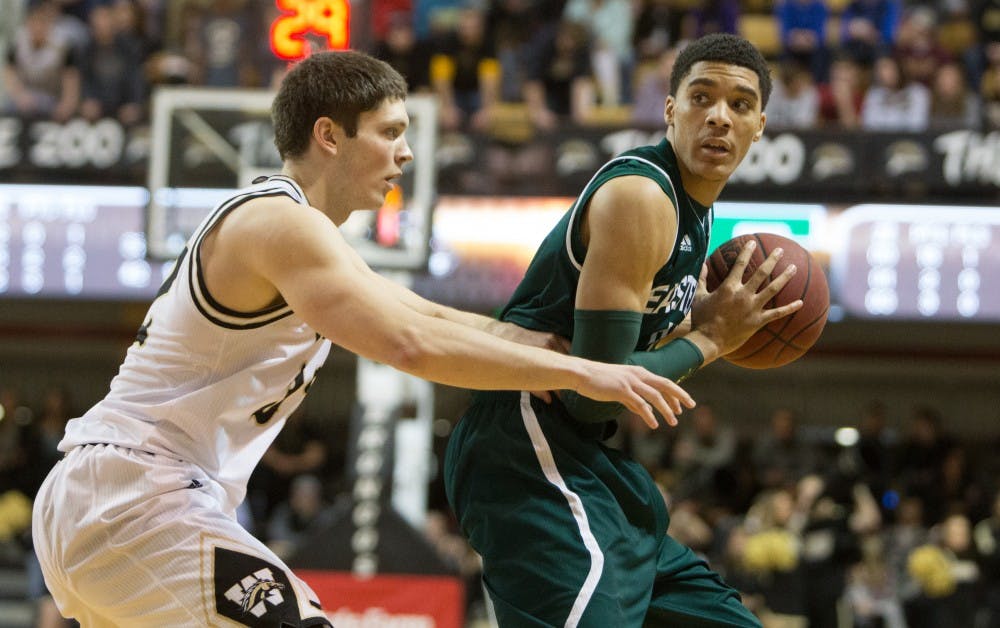 As the regular season for the Eastern Michigan men's basketball team draws to a close, there is no better time to give one last spotlight to the four seniors currently on the team. Over the next two weeks, the Echo will provide a profile of each of the seniors. We begin with the 6-foot-7-inch Karrington Ward.
Name: Karrington Ward
Age: 21
Position: Forward
Major: Communications
Hometown: Lockport, Illinois.
High School: Lockport Township High School
Ward transferred to EMU after spending a year at Moraine Valley Community College in Palos Hills, Ill.
When asked what attracted him to EMU, Ward replied: "The coaching staff. They made me feel at home when I was at my visit. They just made it feel like a big family when I came and I think that's a big part of why I came here. And just knowing that I can contribute right away was also another reason why I came here."
Despite being hampered from an ankle injury in the middle of this season, Ward has still been able to perform for the Eagles, scoring 13 points per game and grabbing seven rebounds per game. Ward has also recorded seven double-doubles on the season to run his career total at Eastern to 11, and also earned MAC Player of the Week honors for the week of Feb. 8 while on a streak of three straight games with a double-double.
"Felt like the ankle was kind of lagging for part of the season, and that affected my play for some of it. But I have plenty of time to turn it around and help contribute." Ward said Feb. 9, before earning MAC honors.
In his free time, Ward continues to be around basketball, whether he is playing with friends or just shooting around. His future plans even revolve around the game of basketball.
"I hope to go into broadcasting or something like that," Ward said. "I really want to go into basketball and maybe play overseas if I can, too."
Finally, what does Ward see in the future of Eastern Michigan basketball when he is gone?
"I think the returning players we have coming back after I'm gone are going to be some exciting players." Ward said. "Like Tim Bond, Brandon (Nazione), Ethan (Alvano), the freshman, I think there is some big upside to this team next year."
There are as of right now two games remaining until the MAC tournament. Only a handful of games are left for Ward's playing days, but he will remain as one of the signature players that helped head coach Rob Murphy turn the program around.