Women's track has good weekend at SPIRE, Voronko breaks record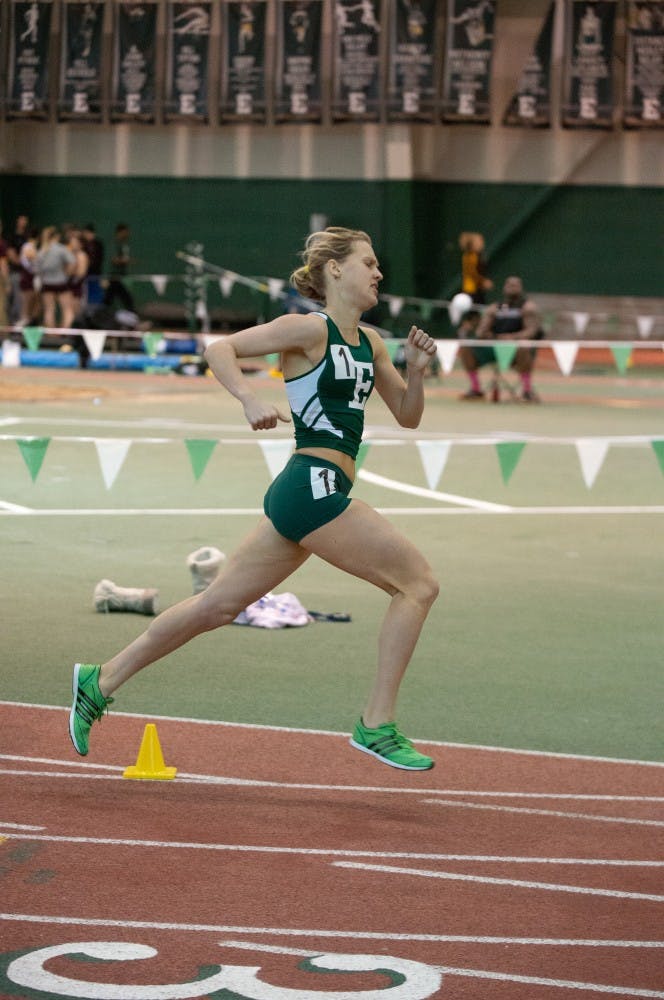 Eastern Michigan University's women's track and field team took part in the second annual SPIRE Division I Track & Field Invitational Feb. 14-15 in Geneva, Ohio.
Two members of the Eagles' team took part in the opening day's events. Junior Lydia Gomez-Diaz competed on the field in the weight throw. Diaz threw for a distance of 12.64 meters/41 feet 5.75 inches. On the track, sophomore Rebecca Quaintance took a 14th place finish in the 600m run, clocking in at 1:39.95.
On Day 2 of the SPIRE Invitational, the Eagles had a successful day as a handful of the team set personal records or qualifying Mid-American Conference marks.
Sophomore Aaliyah McKinney started the day off strong qualifying for the finals rounds of the 60m dash. McKinney crossed the finish line in 7.63 seconds in the preliminary round and finished her final heat in 7.65 to take 10th in the event. Junior Danielle Clark finished the preliminary round of the 200m dash with a time of 7.85. Clark went on to finish 16th in the finals with a mark of 25.18.
"Aaliyah continues to get better each week," EMU coach Sue Parks said. "I feel that she will be ready for some breakthrough performances at the MAC Championship."
The Green and White had two sophomores with close times in the 400m dash. Morgan Yeadon ran a personal-best and qualified for the MAC Championship with a time of 57.34. Hardiman followed closely with a time of 57.55.
The Eagles finished solid in the mid-distance events as junior Marina Manjon-Riyadulla finished the 800m in 2:13.74. Two personal-best records were set in the mile run as junior Taylor Knoll and Quaintance set career times as they clocked in at 5:01.77 and 5:15.96, respectively.
Junior Victoria Voronko broke a record for the fourth time this season as she placed third in the 3000m run. Voronko broke her own record, set last year at the SPIRE Invitational on Feb. 9, 2013, by over 10 seconds, finishing with a time of 9:13.24. This time qualified her for the MAC Championship later this season.
EMU finished up their events on the track with the 4×400m relay. The team of Clark, McKinney, Hardiman and Yeadon finished in 3:50.04 for a 13th place finish.
On the field, Eagle sophomore Ellie Braidic and Eagle freshman Natalie Uy both cleared 3.68 meters/12 feet 0.75 inches in the pole vault. Also posting identical marks were seniors Kate Wolanin and Sarah Chauchard who tied for fifth in the high jump with a clearance of 1.67 meters/5 feet 5.75 inches. Chauchard secured a sixth place finish and a MAC Championship spot as she leapt 5.75 meters/18 feet 10.50 inches in the long jump. This was a personal record for Chauchard.
Completing the competition on the field, sophomore Makeda DeBardelaben took part in the triple jump for the Eagles. DeBardelaben claimed 13th place with a leap of 11.45 meters/37 feet 6.75 inches.
"We had some ups and downs as a team but we continue to make good progress in all areas and we are looking forward to having a total team effort at the MAC meet," Parks said. "This weekend will just be a tune up for a small amount of athletes who need to compete."
The Eagles will stay close to home this weekend as they take part in the Silverston Invitational in Ann Arbor at the University of Michigan on Feb. 22.