Eagle of the Week: Reggie Bell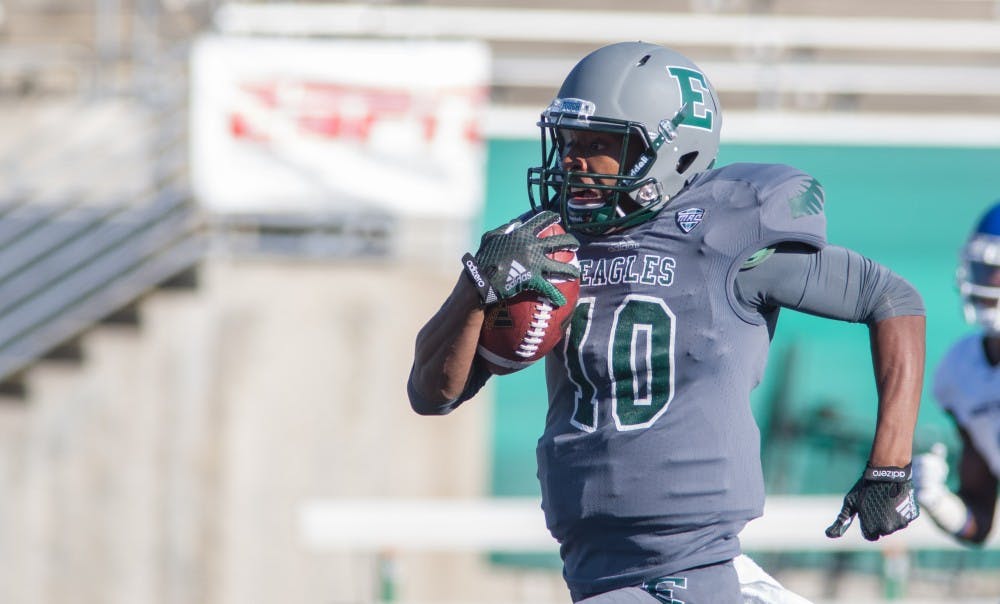 After breaking an Eastern Michigan University rushing record with 17 carries for 202 yards and three touchdowns, redshirt freshman quarterback Reggie Bell was chosen as the Eastern Echo Eagle of the Week, Saturday.
Bell was also 8-of-13 passing for 144 yards and a touchdown. He entered Saturday's game just before halftime – scoring all of his touchdowns in the second half.
"I was ready for my chance [to play]," Bell said. "I was just thinking on the sideline that if I get my chance, I just plan on executing and I did. I didn't plan on doing this or doing that, but I gotta give credit to the offensive line making things a little easier for me as well."
EMU coach Chris Creighton praised his quarterback after the game.
"He's a really good athlete and he's a really good quarterback and you know a lot of people have doubted him," he said.
Creighton added: "We've believed in Reggie all the way through."
Reggie Bell's Football Card (credit emueagles.com)
Full Name: Reginald Dave Bell, Jr.
Age: 19
Height: 6'3"
Weight: 184 lbs
Hometown: Los Angeles, Calif.
High School: Susan Miller Dorsey High School
2014/Career (to date)
Games Played: 4
Games Started: 1
Completions: 21
Passes Attempted: 35
Passing Yards: 215
Passing Touchdowns: 3
Quarterback Rating: 121.03
Carries: 36
Rushing Yards: 250
Rushing Touchdowns: 3
Fumbles: 5 (4 lost)
The Los Angeles, Calif. native has appeared in four games for the Eagles. He has completed 21-of-35 passes for 215 yards and a touchdown. Bell has also rushed 36 times for 250 yards, three touchdowns and zero interceptions.
You can watch the full interview here <iframe width="560" height="315" src="//www.youtube.com/embed/ynUwi6Gpkds" frameborder="0" allowfullscreen></iframe>
Social Media
Follow Al Willman on Twitter: @AlWillmanEcho